News From the Lake for the Week of August 7th, 2013
I'm aware it's not Wednesday, but oddly enough I didn't have any news items to cover until Thursday!  In this update we have more DVD/Blu-ray release dates, an upcoming book on Chicago, and a fun tour series being put on by TCM!
NEWS
Ever wanted to drive around New York City and learn about how the Big Apple shaped the movies?  Well, you can courtesy of TCM and On Location Tours who have partnered up to present a series of 3-hour tours (I promise, you won't end up like Gilligan) entitled TCM Classic Film Tour.  Located exclusively in New York City, the tour will visit iconic stops such as the Empire State Building, Zabar's market, Holly Golightly's brownstone, and Central Park.  A special video introduction by TCM host, Robert Osborne, will accompany all the tours, and provide trivia opportunities.  The tour kicks off August 22nd, and runs Tuesdays, Thursdays, and Saturdays.  If you're interested in learning more, or want to book a tour, you can do so at TCM.com/tours.  If you visit, be sure to let me know how it was!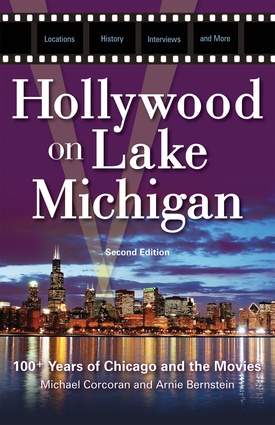 And speaking of other places where movies have been filmed, I am passing along word on an upcoming updating of Hollywood On Lake Michigan: 100+ Years of Chicago and the Movies.  Newly updated with looks at recent films like Wanted, author Michael Corcoran and Arnie Bernstein are covering the varied and diverse series of films that have filmed within the Windy City; movies such as The Blues Brothers, Ferris Bueller's Day Off and The Dark Knight.  I love books like these because A) I probably won't be making it to these places anytime soon and B) Why can't my city film cool stuff (you know other than an aerial flyby used in American Beauty).  I was able to snag a copy of Hollywood on Lake Michigan, and will be giving a full review at a later date!
New on DVD/Blu-ray
Warner Archive: A broad array of DVDs coming out courtesy of the always awesome Warner Archive.  No set theme this month, but it's all about the stars: Kay Francis in her final film, Wife Wanted (1946); Jackie Cooper and Jackie Coogan in Kilroy Was Here (1947), Margaret O'Brien in Lost Angel (1943), Frank Capra and Bing Crosby in Riding High (1950).  There is one star being celebrated more than the others in this wave, Ms. Shirley MacLaine.  MacLaine will have two releases out from Warner: All in a Night's Work (1961) and My Geisha (1962).  There's also two musicals coming to DVD: The musical Western, Red Garters (1954); and Vincente Minnelli's On a Clear Day You Can See Forever (1970).  As always you can order movies straight from Warner Archives website; remember these are manufactured-on-demand.
Last year The Alfred Hitchcock Signature Collection was released on Blu-ray; a fifteen disc set that included all of the Master of Suspense' best  titles.  Since then, a smaller collection called Alfred Hitchcock: The Essentials came out but if you missed all of those Universal is releasing all fifteen Signature titles on single Blu-rays.  Wave one will only include five titles (The Man Who Knew Too Much, Rope, Saboteur, Shadow of a Doubt, and The Trouble With Harry) with more coming out later in the year.  The discs will have all the features included on the set (I'm assuming corresponding to each particular movie) and will be released on October 1st.
Warner Home Video: As with Universal and Alfred Hitchcock, Warner Home Video is celebrating James Dean in November with more of their "Blu-ray Books."  On November 5th, WB will release the three films that made Dean immortal: East of Eden, Giant, and Rebel Without a Cause.  Each will come with a 40-page commemorative book, 3 mini reproductions of the film's posters, production memos (Rebel and East of Eden exclusive), and behind the scenes photos.
That's all from the Lake for this week.  I'll see you again Wednesday with more news!
A freelance film critic whose work fuels the Rotten Tomatoes meter. I've been published on The Hollywood Reporter, Remezcla, and The Daily Beast. I've been featured in the L.A. Times. I currently run two podcasts, Citizen Dame and Ticklish Business.