News From the Lake for July 15th, 2015
News in a nutshell: We say goodbye to another classic star, foray into News of the Weird, a look at the guest lineup on the upcoming TCM Classic Cruise, getTV honors Cary Grant, what's coming to the Film and Television Archive, and what's new on DVD and Blu.
Another sad passing to report this week with the death of Doctor Zhivago star Omar Sharif. The actor, recently reported to have been suffering from Alzheimer's, died of a heart attack at the age of 83. You can read his full obituary here. As someone who absolutely adored him in Funny Girl, this is a serious blow.
In a tale that's truly bizarre, Variety has reported that someone has broken into the grave of Nosferatu director F.W. Murnau and stole the corpse's head! Yes, you read that correctly. I originally assumed this was a hoax – and it still could be – as the original German newspaper that reported on it has said wax residue was found near the grave, "pointing to a possible occult connection." Hopefully this gets solved quickly.
All of you fortunate enough to attend this year's TCM Classic Cruise are in for a treat, as the network announced the names of the cruise's special guests. Eva Marie Saint, Leslie Caron, Lou Gosset, Jr., Roger Corman and Ruta Lee will all be joining TCM hosts Robert Osborne and Ben Mankiewiciz for a sail through Castaway Cay, Grand Bahama and Grand Cayman. Other luminaries attending include Jeopardy host Alex Trebek, friends of TCM, Illeana Douglas and Eddie Muller, director Roger Corman, and more.
Classic TV network getTV honors the legendary Cary Grant every Thursday in August. Several of the star's iconic works will air, including His Girl Friday (1940), The Awful Truth (1937), and Only Angels Have Wings (1939). You can read the full schedule at getTV's website.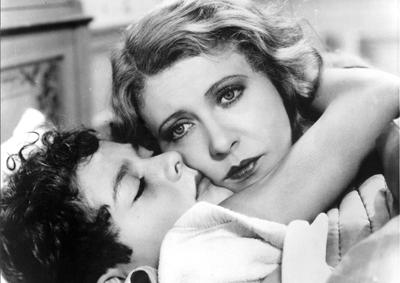 The UCLA Film and Television Archive will salute women in cinema with an indispensable retrospective on the work of director Dorothy Arzner. The sole female director of the studio era, the retrospective includes fourteen of her works, from The Wild Party (1929) to The Bride Wore Red (1940). The event runs from July 31st to September 18th at the Billy Wilder Theatre Westwood Village. You can purchase tickets and learn more at the event website.
New on DVD and Blu-ray
Universal: After seven months of silence, the Universal Vault series (the studio's MOD program) kicks back to life with three new titles on DVD. The two most interesting ones are Josef von Sternberg's An American Tragedy (1931) and Paulette Goddard in Kitty (1945); also released, Charlton Heston in The Private War of Major Benson (1955).
Kino: Kino announced eight titles arriving on DVD in September. They include the documentary The Epic of Everest (1924), Rex Harrison in The Honey Pot (1967) on September 8th; Gregory Peck in Moby Dick (1956) on September 15th; The Satan Bug (1965) on September 22nd; and a Robert Mitchum trilogy of Westerns (Man With the Gun from 1955, 1959's The Wonderful Country, and Young Billy Young from 1969) and Support Your Local Sheriff (1969) on September 29th. Honey Pot, Satan Bug, and Wonderful Country are the only ones receiving Blu-ray releases while the rest are limited to updated DVDs. The Epic of Everest is receiving its first ever release in any format.
A freelance film critic whose work fuels the Rotten Tomatoes meter. I've been published on The Hollywood Reporter, Remezcla, and The Daily Beast. I've been featured in the L.A. Times. I currently run two podcasts, Citizen Dame and Ticklish Business.