News From the Lake for April 21st, 2016
News in a nutshell: getTV adds more shows to their lineup, the UCLA Film and Television Archive has a new slate of films, and what's new on DVD and Blu-ray.
getTV is even more dedicated to giving audiences rare television shows they can't watch anywhere else (and I maintain my cable company needs to get on the bandwagon and carry them!). The network just announced an "all-new weekday schedule" that'll include screenings of The Ghost and Mrs. Muir (series) and Nanny and The Professor, as well as Riptide, The Equalizer and In the Heat of the Night. The complete schedule is up at getTV's website.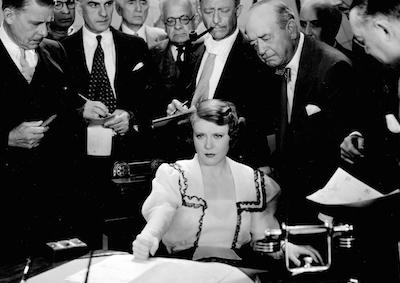 A great spate of films has been announced for presentation as part of the UCLA Film and Television Archive. In honor of Emily Carman's new book Independent Stardom: Freelance Women in the Hollywood Studio System, you can catch several features starring said independent women, running from now to May 26th at the Billy Wilder Theater in Westwood Village. In the coming weeks you can catch What Price, Hollywood (1932), The Story of Temple Drake (1933), and To Be or Not to Be (1942). You can get more information at the UCLA website.
New on DVD and Blu-ray
Columbia Classics: Columbia Classics coughs back to life with the release of Girls' School (1938) starring Anne Shirley and Ralph Bellamy.
Fox Cinema Archives: Fox has released the sci-fi aviation adventure On the Threshold of Space (1956). Unfortunately, like most Fox Archive titles, the original 2.35:1 ratio of the film is reduced to pan and scan on this DVD.
Criterion: Criterion will releases Night and Fog (1955) and Carnival of Souls (1962) in July. These are DVD rereleases and Blu-ray debuts.
Warner Archive: Warner Archive announced the release of several titles over the next few weeks including the tenth and final installment of Forbidden Hollywood as well as Susan Slept Here (1956) on Blu-ray. They're also debuting four Robert Taylor starring films: Remember? (1939), Song of Russia (1944), Times Square Lady (1935) and A Yank at Oxford (1938). The studio's also debuting two Marion Davies films – Blondie of the Follies (1932) and Marianne (1929).
A freelance film critic whose work fuels the Rotten Tomatoes meter. I've been published on The Hollywood Reporter, Remezcla, and The Daily Beast. I've been featured in the L.A. Times. I currently run two podcasts, Citizen Dame and Ticklish Business.