News From the Lake for May 12th, 2016
News in a nutshell: Lots and lots of news. Serves me right for not getting these out sooner!
Anthology "auteur," Ryan Murphy announced that his next project will be entitled Feud, focusing on the filming of What Ever Happened to Baby Jane (1962) and the feud between stars Bette Davis and Joan Crawford. The Hollywood Reporter says actresses Jessica Lane and Susan Sarandon will star as Davis and Crawford, respectively. This is listed as "season one" so it sounds like we'll be seeing other famous Hollywood feuds in the future (I'm open to hearing suggestions from you). The first season of Murphy's American Horror Story did a great job of peppering its murder house with Hollywood history, so this will test whether Murphy can sustain that for an entire season. Controversy has been stoked regarding the continued resurrection of the film and its portrayals of Davis and Crawford as two crazy ladies. Either way, the TCM Party peeps will definitely be talking about it on Twitter.
If you're in the Los Angeles area and want to hold onto a glimmer of the TCM Classic Film Festival you might want to take in the American Cinematheque's upcoming presentation of The Beloved Rogue (1927) starring John Barrymore. The presentation takes place May 22nd at 5:30pm at the Egyptian Theater and will include live piano accompaniment presented by the Art Directors Film Guild Society. Other upcoming films the ADFGS will screen include On the Waterfront (1954) and Harold and Lillian: A Hollywood Love Story. You can purchase tickets and get more information at the event website.
Announced concurrently with the TCM Classic Film Festival this year was Filmstruck, the new streaming partnership between TCM and Criterion. Filmstruck will be a paid streaming service with films curated and angled toward the "film aficionado." Unfortunately for Hulu subscribers this means the company's partnership with Criterion will come to an end as those titles become exclusive to Filmstruck. Other studios whose work will be on the service include Kino, Milestone Films, Janus Films, Flicker Alley, Icarus and Zeitgeist. All content will be ad-free. Not much else is known about the service but based on the studios and TCM's phrasing it sounds like it'll be geared more towards independent, arthouse and foreign titles. I'll confess I'm a taste disappointed with Filmstruck. If you polled TCM fans most would ask for an expansion of the current Watch TCM app as opposed to a niche streaming service. Time will tell on Filmstruck which rolls out in the fall.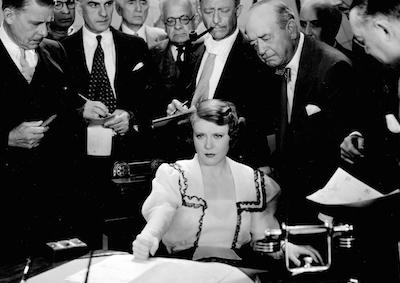 The final few weeks of UCLA Film and Television Archive's series, Independent Stardom on Screen: Freelance Women in Hollywood has some great things if you're in Los Angeles. The Story of Temple Drake (1933), Madame Du Barry (1934), and To Be or Not to Be (1942) will be screened before the end of the month. If you want more information on how to attend an upcoming screening visit the UCLA website.
New on DVD and Blu-ray
Fox Cinema Archive: Fox Cinema Archive announced the release of two new titles – Richard Burton's Prince of Players (1954) and Lauren Bacall and Robert Stack in The Gift of Love (1958).
Warner Archive: Warner Archive has some great titles coming out in the coming weeks! Father of the Bride (1950) and Dark Passage (1947) will be the next new to Blu-ray features, alongside Who's Afraid of Virginia Woolf (1966). Also debuting on DVD is a 3-disc compendium of FitzPatrick Traveltalks (1930). With Memorial Day coming up the studio is also releasing a series of war dramas: China Sky (1945), Marine Raiders (1944), The Navy Comes Through and Seven Miles From Alcatraz (both 1942). You can purchase all of these on-demand via Warner Archive.
Olive Films: Olive announced the release of John Wayne's 'Neath Arizona Skies (1934) and James Arness' Gun the Man Down (1956) on Blu-ray on July 19th.
Kino: Kino will release The Ox-Bow Incident (1943) and Yellow Sky (1948) on Blu-ray July 12th. The former will be seeing a new 4K restoration. Also coming out, on July 26th, is Deadline U.S.A. (1952), Five Miles to Midnight (1962) and Invisible Invaders (1959).
A freelance film critic whose work fuels the Rotten Tomatoes meter. I've been published on The Hollywood Reporter, Remezcla, and The Daily Beast. I've been featured in the L.A. Times. I currently run two podcasts, Citizen Dame and Ticklish Business.