One of author Dashiell Hammett's finest works, The Maltese Falcon has received the adaptation treatment three separate time, most famously in 1941 with Humphrey Bogart. But before John Huston directed that masterpiece of noir, there'd already been two previous passes on the material: a 1931 pre-Code titled Maltese Falcon with Ricardo Cortez as Sam Spade, and this 1936 crime comedy that borrows the plot and little else. A bizarre vehicle showcasing Warren William and a fresh off The Petrified Forest Bette Davis, Satan Met a Lady evokes a tone closer to The Thin Man (1934), more scrambled egg than hard boiled.
Ted Shane (William) works with his partner, Milton Ames (Porter Hall) is a run-down detective office. Ted's flighty secretary, Miss. Murgatroyd (Marie Wilson) adores him, but Ted has trouble keeping Ames' wife off him too. When a mysterious woman named Valerie Purvis (Davis) enlists their services, Ames and a man named Farrell end up dead, with Shane as the prime suspect. He starts tracking down leads, realizing that Purvis and a host of other unsavory characters are all looking for a jewel-filled ram's horn.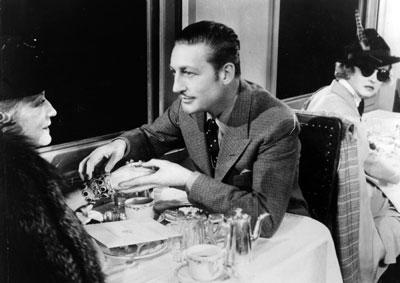 Those preparing to watching Warner Archive's latest release should know how much this diverges from Hammett's original text. Hammett's detective, Sam Spade, becomes Ted Shane, a name already confusing to those erroneously thinking this to be a Michael Shayne mystery. The villainous Joel Cairo, played by Peter Lorre in the 1941 installment, becomes Davis' Valerie Purvis. (It's been a long while since I read the book or watched the Bogart film, but I kept thinking Purvis was an amalgam of characters. Feel free to let me know in the comments.) And, most importantly, there is NO Maltese Falcon, but a ram's horn filled with diamonds. This is probably the most disappointing, and oddest, change, eliminating the very reason for the title.
Based on the title and general tone, this is a meant to be a light mystery/comedy in the vein of the aforementioned Thin Man series. In fact, the first sequel to the Nick and Nora canon, After the Thin Man, came to theaters just five months after this, which explains a lot. Much like that film's central detective, Ted Shane is charismatic, a rascal you never eel unsafe around, and who, usually through his sheer male machismo, has a bevy of women lusting after him. If you can't get William Powell, Warren William is solid backup. He roundly says the script's quips with aplomb, and even when they're a taste mean-spirited, you can always believe they come with a wink and a smile accompanying them; "Murgatroyd. Sounds like a technical term for murdering your mother."
Speaking of Miss. Murgatroyd, Satan Met a Lady allows Marie Wilson to shine. Generally stuck playing featherbrained ninnies, Wilson's Shane-crazy secretary has some great moment, almost as if she's in on the fact this should be more serious. When Ames' widow arrives, before Ames' body is even cold, to cry on Shane's shoulder, it's a moment of melodrama at odds with the film's comic tone. When Murgatroyd throws her arms in the arm, telling Shane "be kind to me" like Ames' widow, it's a moment of self-awareness. The only unbelievable element of the movie – what, you can't believe everyone would fight and murder over a ram's horn full of jewels? – is that Wilson's character doesn't have as many men throwing themselves at her as Shane has women. After this I'm interested in seeking out more of Wilson's work.
Warner Archive's cover art for this plays up Bette Davis' participation, funny since Davis called this "junk." After being successful in The Petrified Forest (1936), Davis wasn't interested in playing trite villainesses. I'd say she's a taste harsh, because her Valerie Purvis works well within the confines of the comic mystery. And, let's not forget, the script turned the original male character in a lady. Sure, the gender swapping is due to the title, playing up Valerie as a seductive Eve, but she acts as a means of showing Shane the error of his ways. He toys with women, and when a woman becomes his match in wits, he realizes his true love is Miss. Murgatroyd. Davis plays fast and loose with the character, doe-eyed and evil when necessary. Her evilness does come with that touch of champagne whimsy only seen in comic capers of the 1930s; when she pulls a gun on Shane she asks him, "Would you mind taking off your hat in the presence of a lady with a gun?" There is a bit of unwarranted redemption for Valerie's character through her preventing Shane from collecting the reward money on her by enlisting the help of an African-American maid. Then again, I guess maybe the true title should be "Satan IS a Lady?"
Satan Met a Lady will tickle those who enjoy comedic murder mysteries from the 1930s. It's no Thin Man, but it has its own unique charm and humor, particularly from Marie Wilson. Bette Davis took on several interesting projects before finding success – she might not have considered them as kindly as I have – and it's always fun watching her play.
Ronnie Rating:
 Interested in purchasing today's film?  If you use the handy link below a small portion is donated to this site!  Thanks!
Satan Met a Lady
A freelance film critic whose work fuels the Rotten Tomatoes meter. I've been published on The Hollywood Reporter, Remezcla, and The Daily Beast. I've been featured in the L.A. Times. I currently run two podcasts, Citizen Dame and Ticklish Business.