The Man Who Cheated Himself (1950)
When I talked to author Alan K. Rode a few months back he mentioned his work with the Film Noir Foundation to bring the 1950 noir, The Man Who Cheated Himself to DVD and Blu-ray. Now the finished product is out in a beautiful package courtesy of Flicker Alley. Much like their previous restorations, Too Late for Tears (1949) and Woman on the Run (1950), this dual-disc DVD and Blu-ray is excellent and also highlights a noir genre that we don't always immediately notice, the domestic noir. Headed up by Lee J. Cobb and John Dall, The Man Who Cheated Himself is an inventive, if at times generic, noir that utilizes some breathtakingly amazing shots of San Francisco and is simply packed with bonus features.
Lieutenant Ed Cullen (Lee J. Cobb) is a veteran homicide detective whose little brother, Andy (John Dall) is officially his partner. But Andy's first case is more than he bargained for. A dead man pops up at the airport and Andy is on the case. What he doesn't know is the body is the husband of Lois Frazer (Jane Wyatt), who "accidentally" shot him right in front of her lover, Ed!
San Francisco was the homebase for many a noir, most prominently Hitchcock's Vertigo (1948) and Orson Welles' The Lady From Shanghai (1947), but what makes The Man Who Cheated Himself such fun is it never draws attention to its setting. Like any resident, the movie inhabits its location without feeling the need to shoehorn in specific locations to remind audiences' "Hey, this is San Francisco." This isn't to say the movie doesn't showcase some beautiful locations. The Golden Gate Bridge factors prominently into things, and the movie's entire finale consists of an extended segment at Fort Point. In fact, the accompanying booklet in the packaging mentions how this location was utilized eight years before Vertigo featured it. Take that, Hitchcock!
With a lively 81-minute runtime there's hardly time for incidentals which explains why we're briefly introduced to Ed and Andy Cullen. All the audience need know about them is they're brothers, with Ed the older (and presumably wiser…that's presumably) lieutenant and Andy the scrappy young detective hungry to nab his first criminal. The script, credited to Seton I. Miller and Philip MacDonald, doesn't merely contrast them in personality and appearance, although it's hard to believe these two are related.
Andy is just as green at his job as he is at marriage. He's finally settled down with his best girl, Janet (Lisa Howard) and is close to starting a new life, the life that Ed has avoided. It's almost perfect that John Dall stars as Andy. Like his previous role in Gun Crazy – released at the beginning of 1950 – his Andy is a man pulled along by circumstance, but in this case he's not driven to the darkness. Dall showcases the character's eagerness. He jauntily answers the phone with "Detective Andy Cullen" when he's barely secured the job. He's a good man about to have a good life, if only he can find a way to not take his work to bed.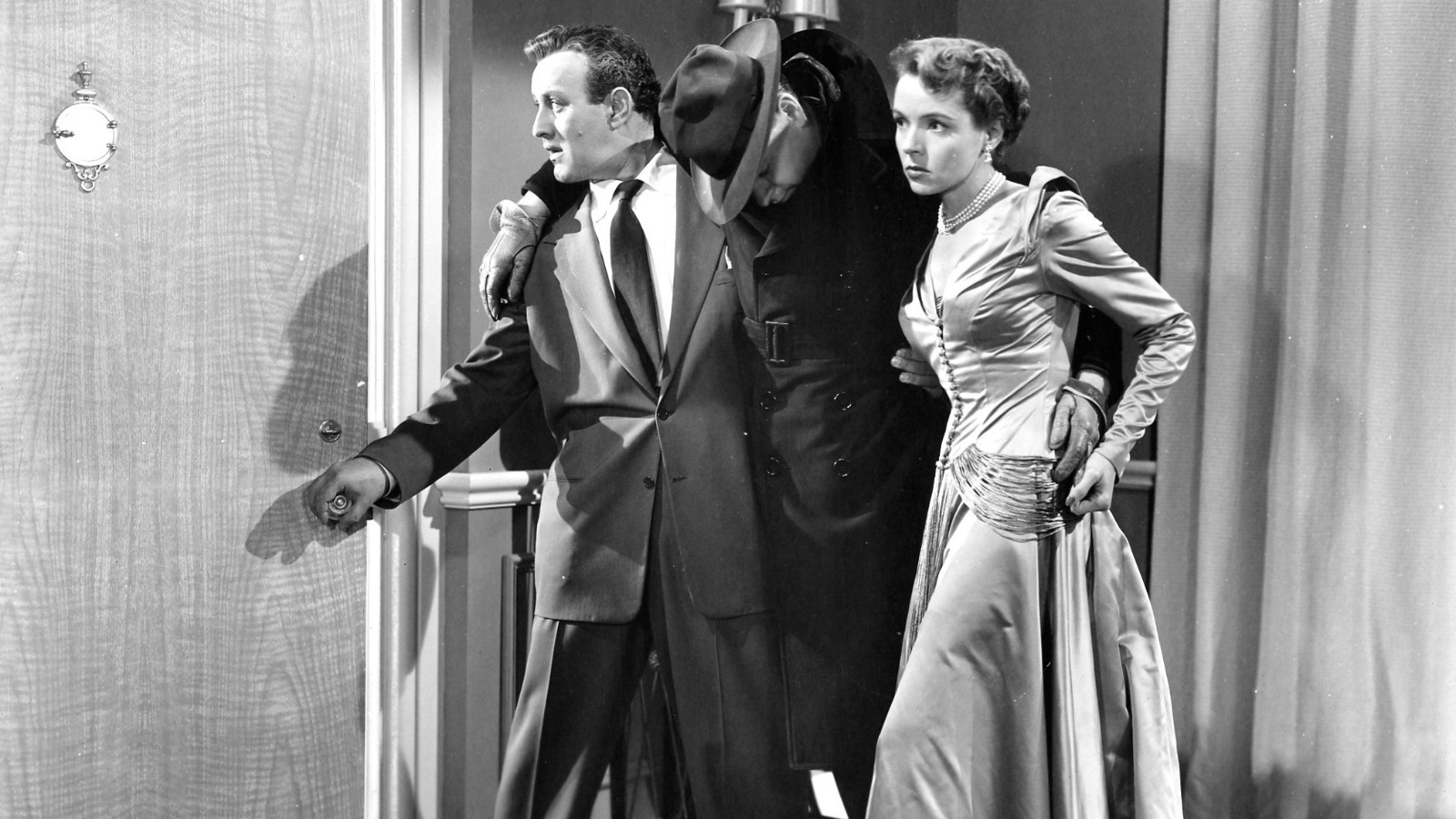 On the other end of the spectrum is Lee J. Cobb's Ed. The role was meant to capitalize on Cobb's recent success on-stage with Death of a Salesman and it is definitely a change of pace watching the garrulous, stocky Cobb play a man drawn to murder by sex and lust. Like many a film noir protagonist, he's compelled by a woman to enter into a dark situation. In this case the lovely Lois believes her soon-to-be ex-husband is out to murder her and has called her long-time lover, Ed, about it. It's only by fate that Ed's in the room when Lois' husband walks in, presumably to get the gun (though you half expect it to be a red herring in the classic film noir sense). With a dead body on their hands, Ed is in a unique position. He's a cop, so he knows exactly how the investigation will unfold and this gives The Man Who Cheated Himself a unique edge.
As Andy takes point on the murder case, Ed pushes things as far from him as he can get away with. A fun bit of business sees Andy interviewing witnesses, who describe the killer as "medium" with his hat pulled down. The camera slyly cuts back to Ed during this description, leaving the audience to ponder whether their description fits him or not. Later, when the witness mentions the pulled-down hat, Cobb sits in the back and pushes his hat up. The camera never cuts to this scene or otherwise draws attention to it, it's a small bit of stage business that could have conceivably been thought up by Cobb in the moment.
The weakest link is the woman at the center of it all, Jane Wyatt's Lois. Wyatt did a few noirs, usually playing supportive wives, and is remembered for her work on Father Knows Best. None of this lends itself towards playing a woman willing to give her husband three slugs in the chest and it shows in Wyatt's overwrought performance. Lois isn't exactly nuanced compared to other noir women like Barbara Stanwyck's Phyllis Dietrichson or Lana Turner's Cora Smith. We don't know anything about Lois' life short of she's about to be a divorcee and is seeing Ed. You're never truly clear on whether her shooting her husband is intentional or an accident, as she claims. But the spotlight shines bright on the character's flaws because of Wyatt's acting which is a histrionic filled mishmash of hands on her forehead and desperately gripping the phone.
Thankfully the other two actors pick up the weight of Wyatt's slack, and the rest of the movie is a well-done affair. You'll easily see comparisons to other noirs, before and after this, but even the weakest imitation is still a solid movie. Flicker Alley's restored release comes with both the DVD and Blu-ray, and bonus features include featurettes on the locations and the original productions. If you're a noir fan, particularly of B-level noir, this is for you.
Ronnie Rating:
Interested in purchasing today's movie? If you use the handy link below a small portion will be donated to this site!  Thanks! 
WANT TO SEE OTHER CLASSIC FILM MEDIA I LOVE? CHECK OUT MY AMAZON INFLUENCERS PAGE
A freelance film critic whose work fuels the Rotten Tomatoes meter. I've been published on The Hollywood Reporter, Remezcla, and The Daily Beast. I've been featured in the L.A. Times. I currently run two podcasts, Citizen Dame and Ticklish Business.