Victorian literature is recognized for its emphasis on repression, social hierarchy, and gender politics. When William Thackery published Vanity Fair in 1848 he couldn't have assumed that its heroine, Becky Sharp, would become one of the most analyzed figures of the era, with papers written about her as representative of 1800s women's liberation, the psychology of femininity, and more. The character's been translated to screen numerous times since publication and now Kino is releasing one of the Golden Era's most breathtaking adaptations. It'll be impossible to beat Kino's release in terms of restorative artistry. This is one of the most exquisite restorations, beautifully transferred to disc. Despite the film's misgivings, I still urge this as a blind buy to support the fantastic work that goes in to saving these movies and reminding you they're great works of art.
Becky Sharp (Miriam Hopkins) is a scheming social climber recently graduated from the Miss Pinkerton School for Girls. On the kindness of her friend, Amelia (Frances Dee), Becky starts to work her way towards landing a wealthy husband. She eventually sets her sights on Rawdon Crawley (Alan Mowbray), but the two's penchant for fine living lands them in debt, and Becky's desire for more in life threatens her relationship.
I can't get over the exquisite viewing experience that is Becky Sharp. I haven't been this blown away by a movie on disc since Oklahoma's (1956) Todd-AO versions several years ago, but it's on that level. Becky Sharp boasts the distinction of being the first movie released in three-strip Technicolor, and until it was restored in the '80s by the UCLA Film and Television Archive the majority of audiences had never seen it before. The film fell into the public domain, and cost-saving measures after its initial release left the film being struck with a grainy and muted print in Cinecolor that's proliferated the internet. Though the Cinecolor print seems to have been retained in the film's final reel, possibly due to damaged elements, it's inclusion at the end only shows you why the rest of the movie is so gorgeous!
The restoration shows you the true power of three-strip Technicolor, a process I miss. The 4K additions give the film a near 3D quality, with Hopkins' Sharp looking like a Botticelli painting. Original reviews of the movie state the Technicolor made the actors look like "smoked salmon dipped in mayonnaise" and I'm not understanding what they say. Yes, Hopkins wears a full face of makeup that's heavily discernible, but no one looks outright garish. In fact, I was thrilled that the detail on the restoration allowed you to see the faint blue eyeliner on Hopkins' eyes. The color also enhances Robert Edmonds Jones' costume designs – shockingly not nominated for an Academy Award – which look simply luscious. The transfer is so crisp you can see every crease and line in the fabrics, the smoothness of the silk. It's moments like these that emphasize why film restoration is so important!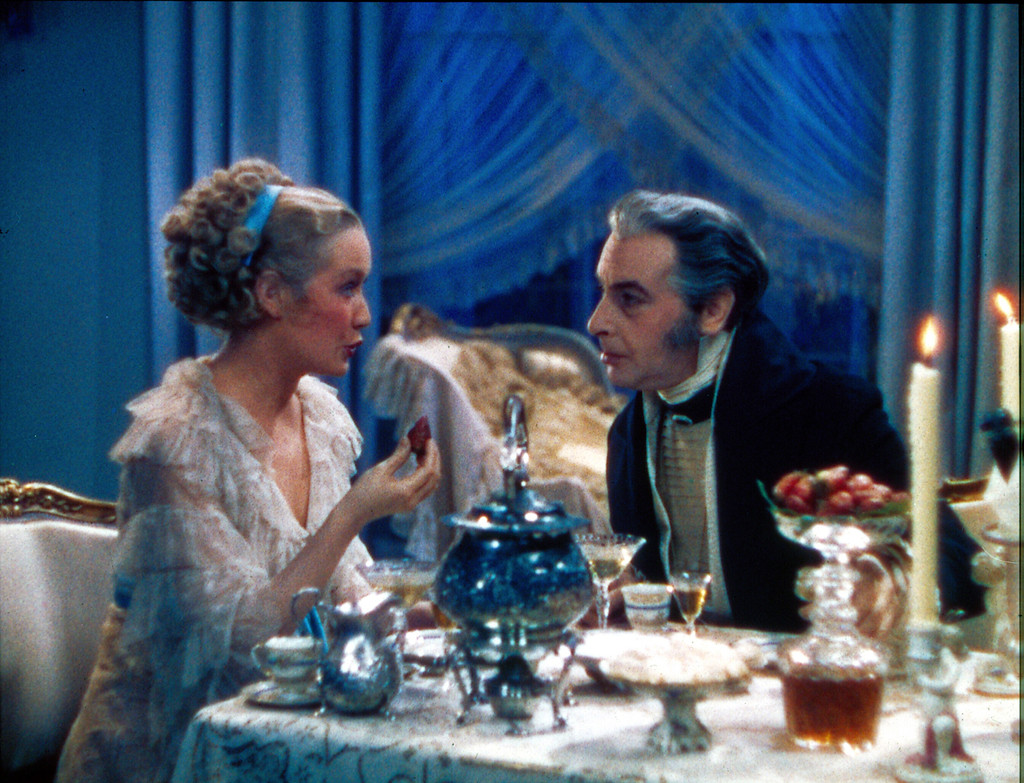 As for the film itself, it's about on par with a mid-'30s literary adaptation, that is to say it's heavily overwrought and truncates the text. Though beautiful on-screen and in color, Hopkins plays the role incredibly broad which works in a comedy or even a horror feature, but not for a movie like this. Becky Sharp is manipulative and Hopkins certainly shows that side to her, acting hurt and letting out heaving sobs only to run upstairs and laugh at everyone's reactions. The problem is that her emotions are so garish that it becomes difficult to tell what's authentically hurting her and what's an act.
When her and Rawdon do have a row and he threatens to leave, Hopkins gets on her knees, keenly for her husband, but is it true? This could be an intentional bit of business on the film's part, to make us question her, but it's unclear. Everyone's emotions are cranked up to 11 in this movie. When the battle of Waterloo breaks out, people at a fancy dress ball start screaming like Frankenstein's monster is coming towards them. (Literally, they frame the woman screaming like the Tingler is upon her.) At the same time Ray Rennahan's cinematography is as lovely as Hopkins' costumes. There are so many lovely composed frames, billowing curtains, lace in front of the camera, that add an extra air of opulence.
Becky Sharp feels incredibly stagy and melodramatic, but it shouldn't be avoided for how beautiful the whole thing looks. Like the grandest slice of cake, the rich beauty of the film's restoration makes up for the empty calories you're consuming.
Becky Sharp hits Blu-ray on April 16th
Ronnie Rating:
Interested in purchasing today's movie? If you use the handy link below a small portion will be donated to this site!  Thanks! 
WANT TO SEE OTHER CLASSIC FILM MEDIA I LOVE? CHECK OUT MY AMAZON INFLUENCERS PAGE
A freelance film critic whose work fuels the Rotten Tomatoes meter. I've been published on The Hollywood Reporter, Remezcla, and The Daily Beast. I've been featured in the L.A. Times. I currently run two podcasts, Citizen Dame and Ticklish Business.