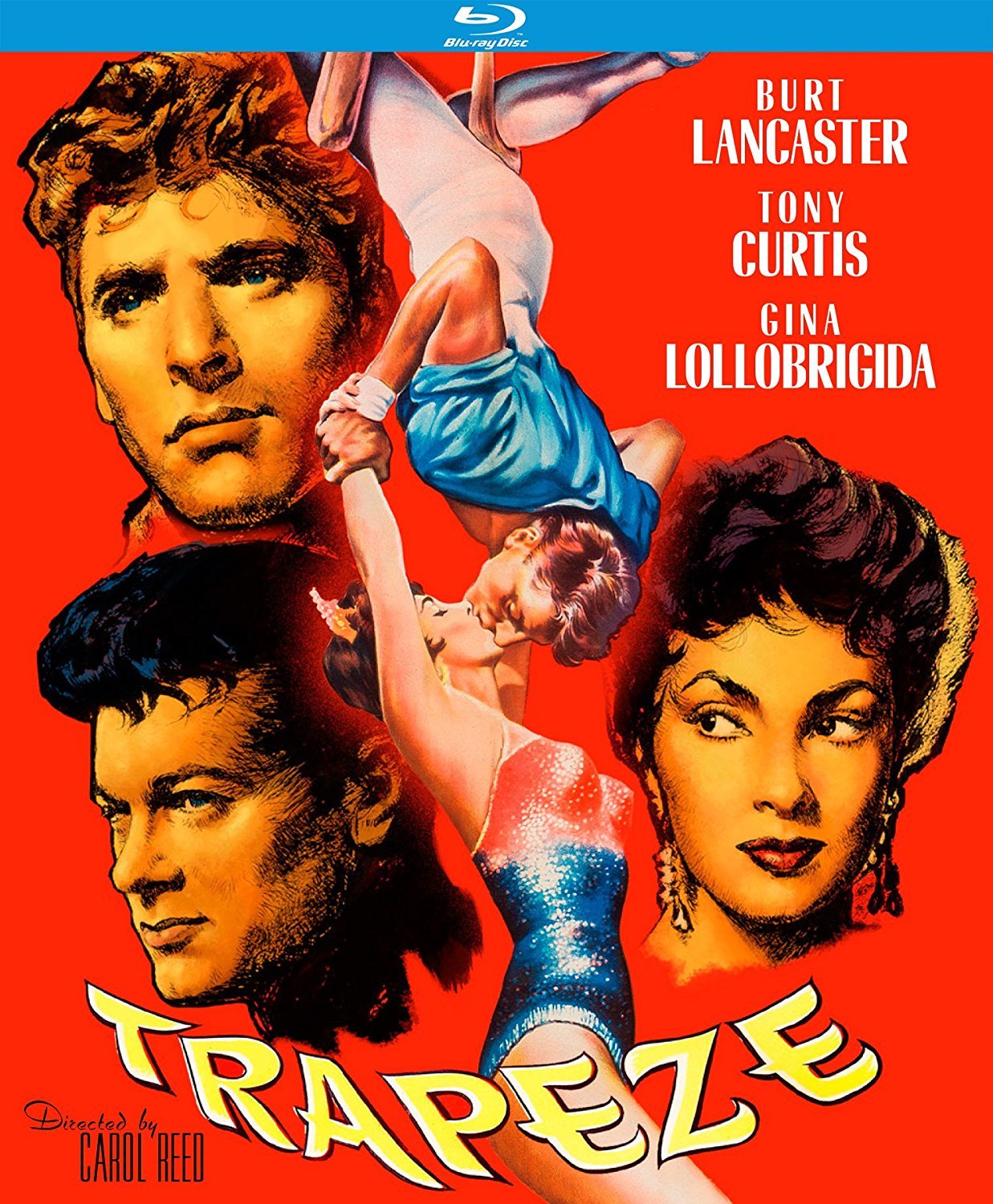 This post is in conjunction with Film Forum's Burt Lancaster tribute. Find out more and purchase tickets here.
Trapeze is a film that comes with some cache in my house. My mom is a big fan of the film, its well-defined homoeroticism which many film friends of mine have also brought up. The film is also directed by acclaimed director Carol Reed, who, up till now, I'd only seen one film from (1948's The Fallen Idol). But as much as Trapeze is situated as a feature from a legendary auteur, it's maligned for being a garish, pendulous '50s epic that commercialized Reed and divided critics upon release in 1956. Kino recently brought the film to Blu-ray, in an exquisite transfer, so let's sail through the air and see how it fares in 2018.
Tino Orsini (Tony Curtis) has traveled to France to meet with acclaimed trapeze artist Mike Ribble (Burt Lancaster) in the hopes of learning how to do a triple somersault. The two start working together, but a beautiful Italian acrobat named Lola (Gina Lollabrigida) threatens the two's act.
Like most films of the late-'50s there's an epic quality to this movie, not unlike other circus-themed films including The Greatest Show on Earth (1952). With the need to compete with television, the full frame is utilized here – and Kino's done a beautiful job making this sparkle on televisions. The streets of Paris may not look impressive, but when MIke, Tino and Lola are sailing through the air, with the greatest of ease (sorry, couldn't resist), you really appreciate that. Robert Krasker's cinematography does an excellent job of conveying height and the distance from the audience, seguing from low angle shots pointing at the artists in the air and breathtaking aerial shots. The camerawork also does its job of showing us these actors (or their stunt doubles) are definitely following the job description. Burt Lancaster was a circus performer, doing about 90% of his own stunts. During the aerial sequences finding a stunt double is a bit more difficult. However, it's highly evident to see that Tony Curtis didn't do his own tumbling.
Having just The Fallen Idol to go off of I can't definitively say how this does or doesn't showcase Reed's talent. I will say that like The Fallen Idol there's a small romantic triangle at the heart of a larger than life narrative. Where the previous feature saw a little boy confused over his loving butler's relationship with another woman, here is is Tino and Mike's mutual love for Lola…and for each other. It's been discussed in film circles about how homoerotic Trapeze is, even the original script had to excise an overt murder committed by one of the men due to his love for the other (but, as we all know, this wouldn't fly in 1956). That being said, much like Ben-Hur (1959), there seems to be an awareness of how the interactions are truly supposed to go. Lancaster may direct his romantic arrows at Lola, but Curtis almost seems to know the true spark lies between Mike and Tino.
But with a movie that has such an overt homoeroticism it's understandable that the actors wouldn't immediately sell that, but it is hard to get behind the cast. Burt Lancaster is still a taste I haven't acquired, but like his role in Elmer Gantry (1960) he gives it his all. His Mike Ribble is a man hindered by a past accident that's left him with a bum leg, and yet meeting Tino reinvigorates him. Mike is determined and Lancaster channels all the necessary enthusiasm required of a mentor hoping to get his protege up to snuff. Unfortunately Tony Curtis isn't the right protege. Montgomery Clift was actually supposed to take on the role but didn't and thus we're stuck with Tony Curtis. Much like his turn as Spartacus (1960) he just doesn't work as a green amateur. And while there was a decade in age between Curtis and Lancaster, the two look the same age so it's laughable hearing Mike call Tino "kid" and "son." And then we're left with Gina Lollabrigida as Lola. She's certainly beautiful and wears the spangliest costumes in the movie, but it sucks being the third wheel when all the passion is found between Mike and Tino.
I can't say I loved Trapeze. At times it feels cold and restrained, an auteur director gone Hollywood. I'm certainly glad I saw it, and Kino's new Blu is the best way to take it in, but I doubt I'll ever be compelled to give it another toss through the air.
Ronnie Rating:
Interested in purchasing today's movie? If you use the handy link below a small portion will be donated to this site! Thanks!
WANT TO SEE OTHER CLASSIC FILM MEDIA I LOVE? CHECK OUT MY AMAZON INFLUENCERS PAGE
A freelance film critic whose work fuels the Rotten Tomatoes meter. I've been published on The Hollywood Reporter, Remezcla, and The Daily Beast. I've been featured in the L.A. Times. I currently run two podcasts, Citizen Dame and Ticklish Business.