The Asphalt Jungle (1950)
Oft-considered one of the greatest film noirs ever made, John Huston's The Asphalt Jungle is a story about the perils of city life…with the added bonus of a jewel heist. John Huston's story is a dark and twisty tale that isn't so much about law and order, but the crimes people commit against each other. Newly released on Criterion, audiences can step into the world of The Asphalt Jungle and see a litany of stars doing their best, and for a few most unique, work of their career.
Doc Erwin Riedenschneider (Sam Jaffe) has plans to successfully plan and execute a million-dollar diamond heist. He recruits a team and the whole thing goes off without a hitch. Or at least until personal issues and bad luck plague the entire group from claiming their reward.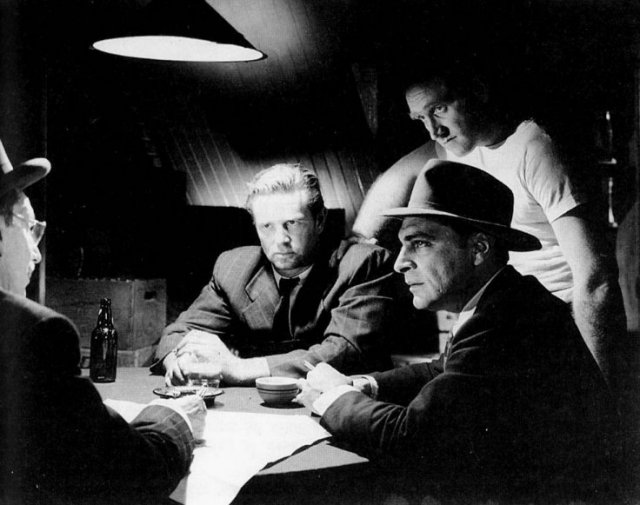 In terms of its crime element there's little that differentiates The Asphalt Jungle from other noirs. The characters prepare for the heist, pull it off (a taut 11-minutes in the film) and deal with the subsequent fall-out. For a majority of the runtime there's little fear of law enforcement derailing their plans though they're being hunted down. What looms over the group is the issues each individual character brings to the table going in.
Huston captures the increased resentment by many men after WWII. Sterling Hayden's Dix Handley believes there's no life in the city, none worth living. His desire is to reclaim the horse farm his father lost in the Great Depression. For Dix, his life has been a long slog into poverty for decades, and as the 1950s starts it's another decade of being poor and downtrodden. Other characters note their distaste for city life, and the decade would soon be known as the era of the suburb, with people leaving crowded tenements in droves for safer planned communities. Hayden did his fair share of noirs, the other being Stanley Kubrick's The Killing (1956) in which he plays another distraught man seeking a means of restructuring his life.
Hayden's great as a tortured man desperate for something, yet being unable to see the good in his life; the good being the kind-hearted, naive Doll (Jean Hagen). If you've only watched Hagen as the squeaky-voiced Lina Lamont in Singin' in the Rain (1952) you're missing out on her amazing dramatic capabilities. Like the children's toy with her namesake, Doll is a caretaker. She wants to spend her life with Dix, and no matter how much he tries to push her away she returns with a smile on her face. It's amazing how despite the character's nature, Hagen never plays her as a victim. Especially in the finale, Dix is the one who pulls her into things. She may want to be near him, but in Dix's final moments she is the only one to stand by him.
The rest of the cast also possess stories about the need for connection in a city gone to pot. Second to Dix's story is Alonzo Emmerich's (Louis Calhern), who helps finance the heist. He has a bedridden wife desperate to connect with him, as well as a plucky, nubile mistress named Angela (Marilyn Monroe). This was the first significant role for Monroe and it's at odds with the persona she'd soon adopt. For starters, she's a sensitive, caring woman both in love with the older Alonzo – whom she calls "Uncle Lon" – and desperate for a better life like Dix. Emmerich desires both women for the qualities they possess – and it's obvious what qualities he likes in Monroe. However their final scene together conveys all the tenderness absent from the beginning. Calhern shows Alonzo's affection for Angela, as well as his disappointment at her inability to cover for him (and maybe his disappointment at her not being the woman he wants).
It's remarkable how much human drama can be packed into a heist film. With all the characters navigating their own troubled waters it's easy to lose sight of the cops hunting them down. Even the cops, like John McIntire's Police Commissioner Hardy come with internal flaws. His corruption is literal, but each of the preceding characters look for an end to their corruption through this job. Moving away from the city becomes a means of cleansing their very souls.
The actual Criterion presentation boasts an amazing 2K restoration that will look wonderful on your home theater screen. Drew Casper's audio commentary is amazingly informative while "Czar of Noir" Eddie Muller discusses the film with cinematographer John Bailey. Other features worth looking at include Pharos of Chaos, a 1983 documentary about Sterling Hayden (he's a real kick in the pants) and various comments from director John Huston himself.
The Asphalt Jungle is more than a noir. It's a commentary about the changes that would put an end to WWII and usher in a brave new world of consumerism and simpler living. Each of the characters are willing to die just to breathe some fresh air that only a world outside the city can provide.
Ronnie Rating:
Interested in purchasing today's film? If you use the handy link below a small portion is donated to this site! Thanks!
A freelance film critic whose work fuels the Rotten Tomatoes meter. I've been published on The Hollywood Reporter, Remezcla, and The Daily Beast. I've been featured in the L.A. Times. I currently run two podcasts, Citizen Dame and Ticklish Business.