"Born Yesterday" Review – William Holden (Summer Under the Stars #9)
Thoughts on William:
I've seen a few of his films (Sunset Boulevard, Sabrina, and The Towering Inferno) and honestly haven't really been that affected by him as an actor. I'm not really sure why, he's very charming, but he just doesn't appeal to me.
TCM Movie Schedule:
Our Town
Meet the Stewarts
Force of Arms
Escape From Fort Bravo
Rachel and the Stranger
Father is a Bachelor
Born Yesterday
Executive Suite
Sunset Boulevard
Dear Ruth
Network
Wild Rovers
Invisible Stripes
Film Review:
Billie (Judy Holliday), the fiancée of Harry, a millionaire (Broderick Crawford), starts to take lessons from Paul, a reporter (William Holden), in order to make her more presentable to the public.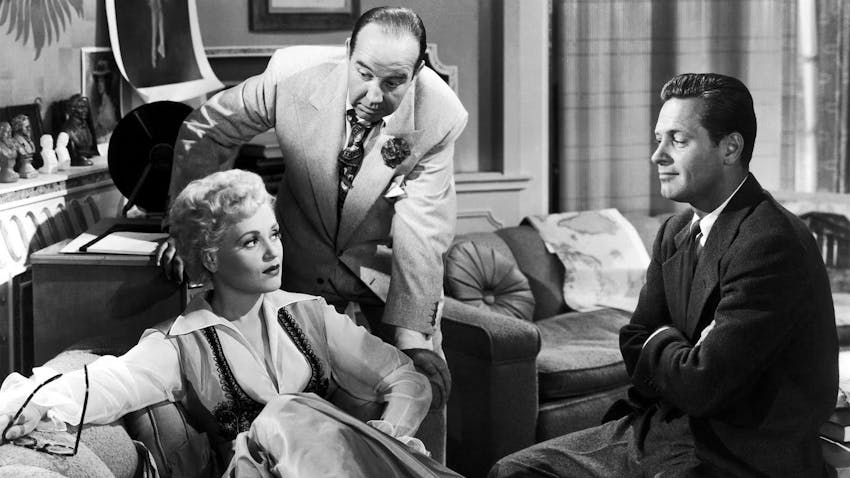 I'm not going to lie, I haven't liked any of the Cukor films I've seen, and this one was no different. He approaches his stories in the most boring manner possible, and doesn't give the actors much to work with. This movie was based on a play, which added to the slow plot progression and bland cinematography.
I've never seen any Judy Holliday movies before, but she annoyed me so much in this. Her grating nasal voice was almost unbearable. It bothered me more because I did want to like her character. I was surprised to learn that she won an Academy Award for her performance, especially over Bette Davis and Gloria Swanson.
It didn't help that a majority of the film was just scenes of her and Harry yelling at each other in the most over dramatic acting I've ever seen. Harry was not an interesting or complex villain, which set the film back in a lot of ways.
William Holden is okay in this, he plays a different kind of character than I'm used, which was interesting at first. Unfortunately, his character was pretty bland and one-note. He and Holliday didn't have chemistry between them, making the quickly paced romance feel unnatural.
This movie is apparently sold as a comedy, but I didn't laugh once. It's overbearing in its depictions of domestic violence. Way too much attention was given to Harry and I never got the sense that the film was condemning his behavior, other than the customary 'oh no, he slapped her!' shock factor.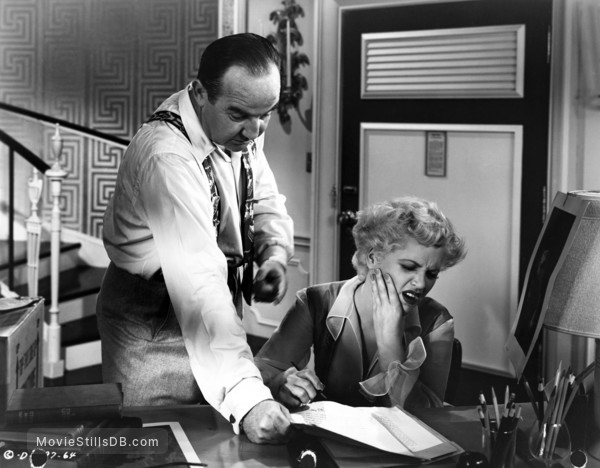 The dialogue is awkward, and made worse by the stilted delivery. Everything about this movie just felt so awkward and none of the actors seemed comfortable with the material.
As the movie progresses and Billie and Paul start to fall in love, there was no connection between their characters. Holliday is playing up the ditzy blonde act too much, and Holden is pretty much just there to mansplain politics to her, which I did not find interesting. They didn't gel as actors or characters.
I appreciate the film not criticizing Billie for wanting to learn more and become a better person, but we never see her character progress. She's presented from the get-go as having the mindset of a five-year old child. Billie is also way too dependent on the male characters, who treat her terribly, and conforms to their ideas of what they want her to be.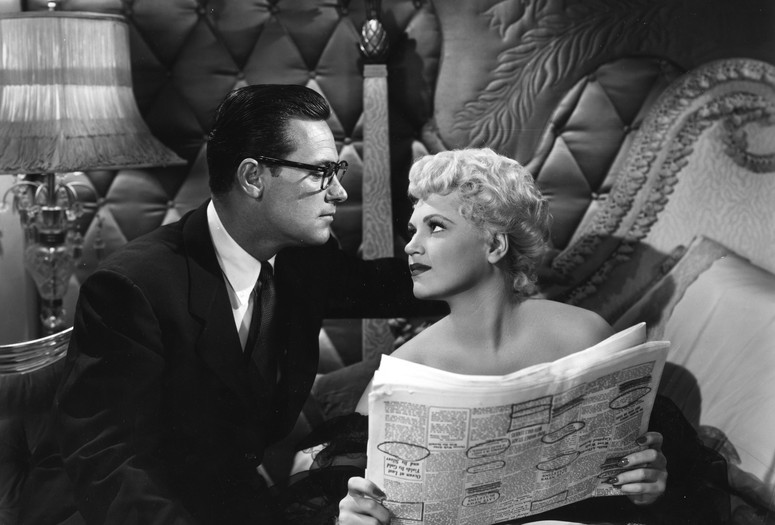 I get that this was made in 1950, but there's just no pay-off. The sense I got from it is that Billie can only learn things if a smart and "patient" man is essentially just telling these things to her. She didn't really have agency.
Her character hardly transforms and the men don't pay for their actions. It's frustrating and a reason why I struggle with certain films from this time. The gender politics can be incredibly messed up.
The plot is already quite thin, but stretched out over almost 2 hours makes it almost unbearable. It also leans way too much into patriotic propaganda that made me roll my eyes repeatedly.
Superlatives:
Favorite Scene: "Who Voted For Him?"
Favorite Character: None.
Favorite Quote: "A world full of ignorant people is too dangerous to live in."
Holden's Performance: He was okay, his character was not very memorable. I'd give his performance a 2/5.
Would I Recommend? No, it was a slog to get through and nothing that noteworthy.
Overall Rating:
Audrey is a self-proclaimed film buff who loves to watch, read, and write about movies. Her passions include queer & feminist studies, watching obscure 80s/90s and Old Hollywood films, and discovering new music. She also writes for Scribe Magazine. Check out her podcast about actors who died young!