"Cynthia" Review – Elizabeth Taylor (Summer Under the Stars #14)
Thoughts on Elizabeth:
I have a complicated relationship with Elizabeth Taylor; sometimes I find her charming and a great actor, and other times I feel the complete opposite. I admire her activism efforts and she was a close friend to a lot of actors that I like, but her personal life was very… interesting.
TCM Movie Schedule:
Courage of Lassie
Cynthia
Little Women
Father of the Bride
Beau Brummell
Cleopatra
Giant
Who's Afraid of Virginia Woolf?
BUtterfield 8
The Sandpiper
Film Review:
Cynthia (Elizabeth Taylor), is a sickly young girl whose overprotective parents (George Bishop and Mary Astor) shelter her from experiencing the world.
Same with A Date With Judy, this movie just doesn't really appeal to me as a teenager in present day. The problems the main character deals with feel so trivial. It doesn't help that they're presented in the blandest way possible.
I felt like the cast was good, but they didn't really have a natural chemistry with each other and the film didn't really delve into their relationships as much as it should have. Since so much of it is driven by the characters, the end result felt off.
It was pretty interesting to see it how it delt with family drama, especially with the extended family. Just because you're related doesn't mean you have to have relationships with them. I appreciated that the film didn't shy away from addressing that message.
Elizabeth Taylor is good in one of her earlier roles, though her character is pretty boring and it's hard to believe that she's supposed to be unattractive and boring. As with most older films, Cynthia suffers from some unexplained illness. Naturally, Taylor still looks incredible.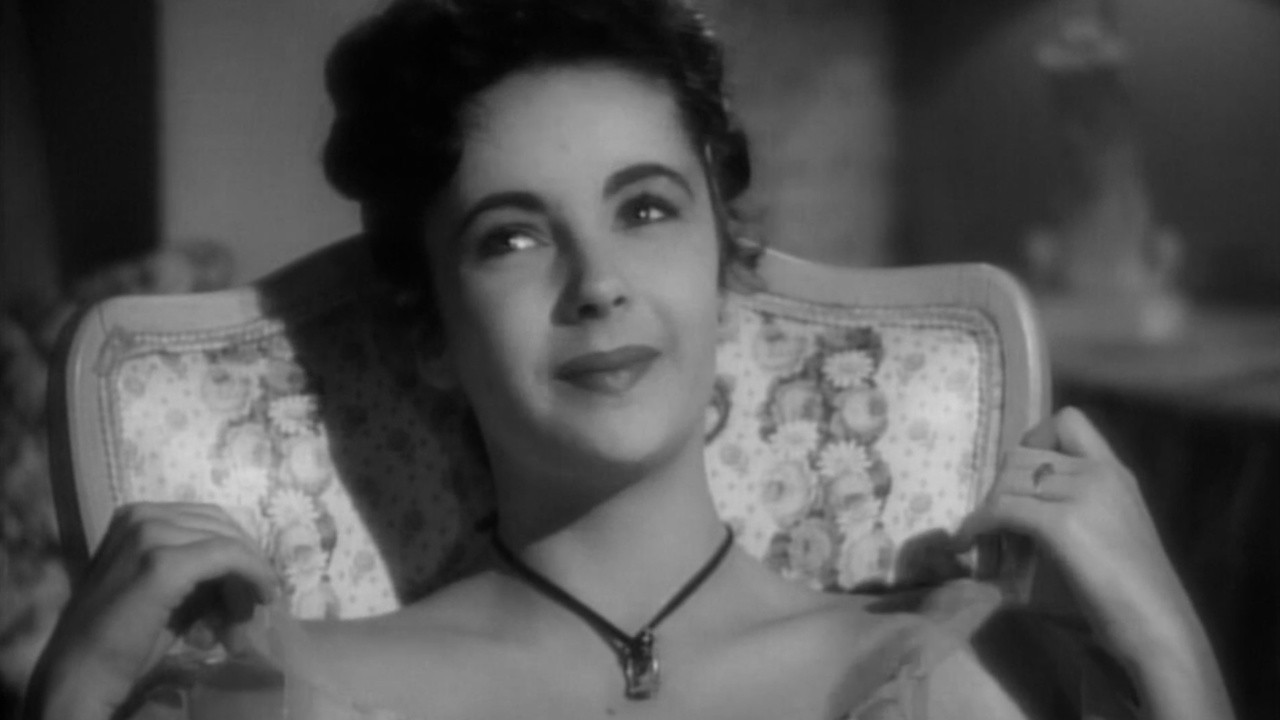 The supporting cast is pretty weak. Cynthia's love interest, Ricky Latham (Jimmy Lydon) has come back from serving in the war and decides to go to high school for some reason. He approaches the role with a very stilted awkwardness that doesn't feel right, and the chemistry between him and Taylor is hardly there.
Scotty Beckett, is kind of wasted here as a dorky bumbling boy pining after Cynthia. Which is kind of weird since I just watched them playing siblings in A Date With Judy. The actors playing their classmates and friends are generic, and don't really serve a purpose to the plot. The time spent focusing on them got boring since it didn't add anything.
The script is lacking nuance and some humor, or at least a complete understanding of its subjects. I never felt like I got to know the people, and therefore did not care that much about them. It's such a weird blend of cringe-worthy attempts at comedy and melodrama that when all put together, doesn't amount to anything memorable.
It feels very fake and not a very note-worthy point in any of these actors' careers.
Superlatives:
Favorite Scene: I couldn't find any on YouTube but maybe the prom scene.
Favorite Character: Professor Rosenkrantz
Taylor's Performance: She's decent, I feel like the character was pretty bland and it's still very early on in career. She shows promise but definitely has a ways to go. I'd give her performance a 2.5/5.
Would I Recommend? No, it's rather generic and feels very dated.
Overall Rating: 1.5/5 stars
Audrey is a self-proclaimed film buff who loves to watch, read, and write about movies. Her passions include queer & feminist studies, watching obscure 80s/90s and Old Hollywood films, and discovering new music. She also writes for Scribe Magazine. Check out her podcast about actors who died young!